Book/DVD set (also available in Spanish)
by Diane H. Craft, PhD and Craig L. Smith (paperback – 2008)
List Price $39.00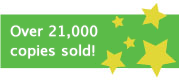 The 52 physical activities and their many variations in Active Play! are…
created for toddlers and preschoolers to play together!
easy to lead and fun to do!
inexpensive, using readily available equipment!
designed for children to develop fundamental movement skills and physical fitness!
inclusive of children with special needs!
The Telly Award® winning DVD, included with the book, shows children playing 30 of the book's 52 physical activities.